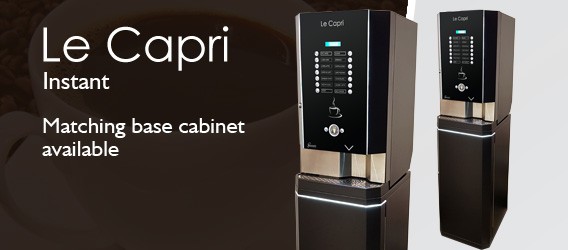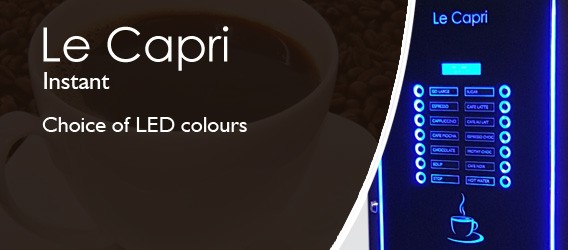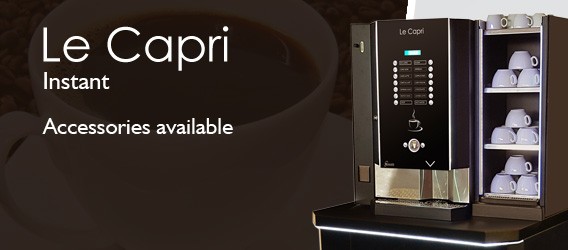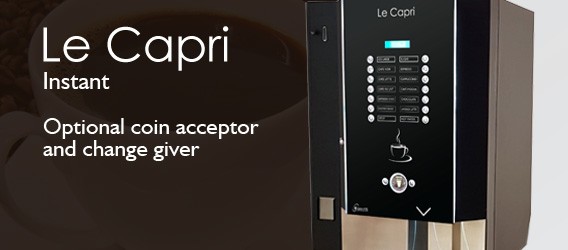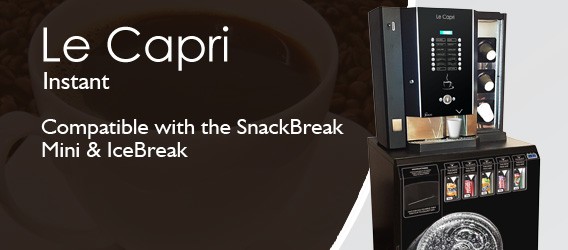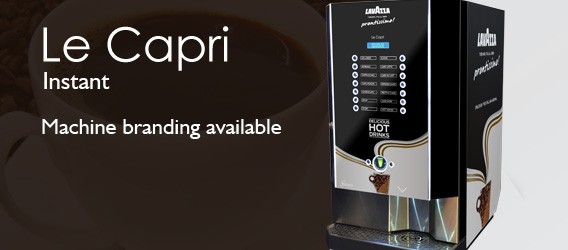 Le Capri Instant by DarenthMJS is quite simply the most elegant machine of our speciality range. The gloss black finish with brightly illuminated buttons highlight the machines attractive finish and sleek design.
This superb speciality machine perfectly complements the high quality of hot beverages produced.
Features
14 one-touch selection keys
All keys fully programmable for any drink choice
High speed, precision balanced 'whipper' units
Push button strength adjuster fitted as standard
Go Large' option available
Drink size from 7oz to 16oz
3, 4 or 5 large capacity ingredient canisters
Easy to remove, easy to clean internal parts
Strong, powder coated steel cabinet combined with highly polished stainless steel features
Illuminated stainless steel cup station
Back lit ingredient labels
Adjustable brightness and 'attract' modes
Choice of lighting colour
Strong metal cabinet, with black and stainless steel detailing
Optional electronic coin validator and full change-giver versions also available
Free flow or timed hot water dispense (can be chargeable on coin-operated machine)
Large and prominent display area
Capacity

Number of selections
14

Dimensions

Width (mm)

Height (mm)

Depth (mm)

402

860

560

Weight

Kilogrammes
51

Power

Supply voltage

Power

220-240V

2.8kW

Payment Systems

Available as either free vend machine, or with full electronic coin mechanism which accepts all coins and token or with full change-giver

Accumulated credit allows multiple vends to be made

Free vend override switch

I–Key cashless payment system compatible

Options

Compatible with the Cuppa-Go serving station

Classic matt black matching base cabinet featuring colour co-ordinated neon-effect lighting

High quality water filtration system for optimum drink quality

Radar based, movement sensing lighting control

Polycarbonate gloss face plate with LED back lighting

Matching cup warming module with 4 heated shelves

Matching high capacity 3 tier cup dispensing module

Matching 3 tier condiment serving module

All the above are available with colour co-ordinated neon effect lighting

Compatible Partner Machines

To enable you to offer a cost-effective, total refreshment solution of ice-cold cans, bottles, crisps, snacks & quality cold water, this machine is electronically compatible with our IceBreak, SnackBreak,SnackBreak MINI, SnackBreak SLIM, SnackBreak Ultima, Chillout & WaterBoy machines.

Please see individual machine data sheets for full details.